Inspired by Mike Yankoski's, "Under the Overpass," Frank and Louise Fargo founded Shower to the People. In the book, the author describes his volunteer journey into homelessness as answering a call from God. He details the many obstacles, dangers, and difficulties he faced while being homeless. Among these, he noted the particular difficulty with getting a shower. He would often go weeks between showers.
In the spring of 2008, the Fargos purchased a used fifth wheel trailer. Frank worked nights and weekends repairing and remodeling it. One of the many upgrades included installing a full size shower that was equipped with an instant hot water heater that would ensure each shower is warm. Louise purchased and gathered the needed supplies to make the trailer a success. Along with showers, the Fargos provide folks with travel size toiletries, underwear, a t-shirt, and a pair of socks. The Fargos partnered with their local church, Cascade View Presbyterian Church to gain 501(c3) status. They chose to start giving showers as an added service during the Dinner at the Bell in downtown Everett hosted by First Presbyterian Church. The first shower was given in June of 2007. Shower to the People has been a fixture during the Dinner at the Bell every Wednesday since. Shortly thereafter, Shower to the People became a regular part on Neighbors in Need on Saturday mornings at Trinity Lutheran in Lynnwood.
We have stopped giving showers at Trinity because of the Corona virus. We are waiting till Trinity opens up again to give inside breakfast. Now they hand out sack lunches.

Early in 2015, the original Shower to the People trailer was replaced by a trailer that has two full size showers, each with an instant hot water tank that ensures every shower is hot.
We have given over 20,000 showers in the last 12 years.
Over the years, we have heard many stories of appreciation, joy and gratitude. Showers make a difference in lives. The Fargos and their team of volunteers serve out of passion for helping others.
If you want to see us in action, you are welcome to swing by and check us out on Wednesday nights.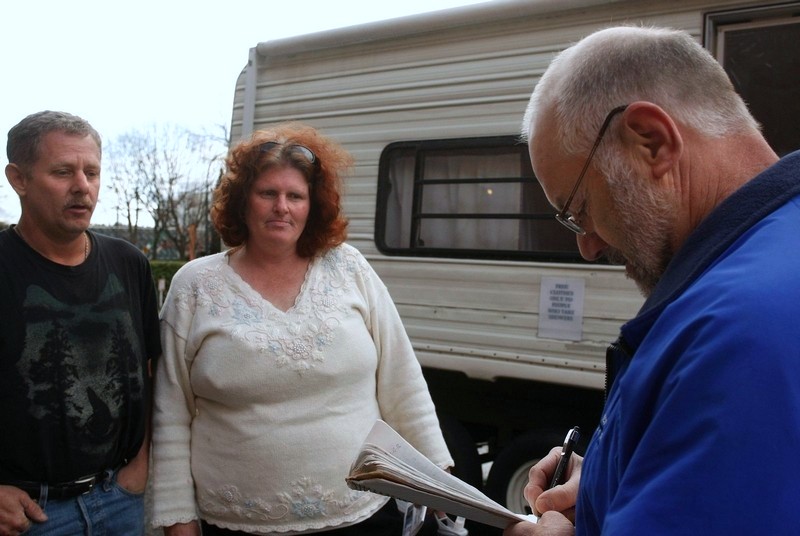 Frank the Shower Guy signing folks up for showers